Walk
IT through.
Talk
IT through.
Your floor planS
at actual size
Set in a large warehouse-style space, Big Plans is conveniently located in North Melbourne. It's an informal, multi-purpose facility to experience floor plans — at actual size. It's the perfect place to collaborate, refine ideas and even develop new ones.
Big Plans has been purposely developed for design professionals, homeowners who are building or renovating and off-the-plan buyers / sellers. With a large staging area and a separate boardroom-style collaboration room, it can accommodate working teams of up to 10 people.
Cutting edge equipment and software combines to project floor plans of any size in remarkable clarity. Mix this with real-world furniture, available on site, and you have a remarkably accurate scenario to bring floor plans to life.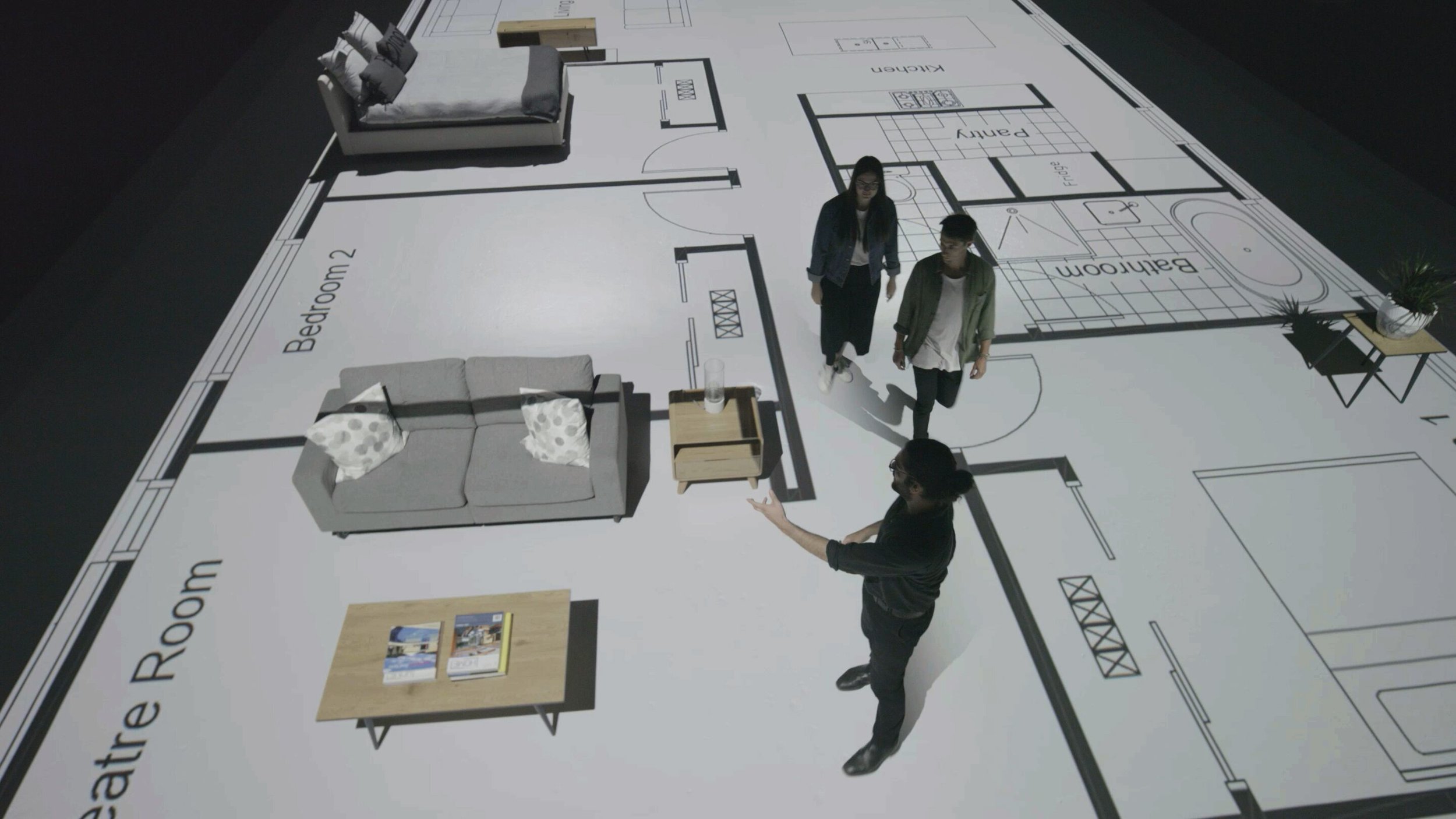 Architect, residential, retail or hospitality interior designer?
Trial your designs, accelerate decision making and reduce risk. A range of benefits make Big Plans ideal for a wide range of design professionals.
Building, renovating or landscaping?
Get it right before you start building. Individuals and families who are building or renovating can make great use of Big Plans.
"It was great to get a sense of how my townhouse development is working without having to build a display suite. I tweaked a few things in the design that made it much better – this has saved a lot of time and cost. Working with Big Plans has been excellent – they are a great bunch of people."
—
John, Landprime Development
''I visited Big Plans with some clients and it was clear that being able to walk through life-sized versions of the floor plans provided a real sense of scale that can't be conveyed through drawings alone. When supplemented with projections of the proposed building it becomes an immersive experience that is compelling and educational for both clients and designers.''
—
Lincoln, Director Pillar & Post Architects
"The experience made things clear for me. I'm not a visual person so Big Plans really helped me to understand the layout and size of my new home. The guys were so helpful, I would recommend it to anyone."
—
Jennifer, Homeowner
"We just had our first client meeting at Big Plans Melbourne today. The client was blown away by the experience, they could actually stand in their new kitchen and comment on the functionality of the working space. We also provided different design options that allowed the client to give positive feedback from one design to the other. We will be recommending this service to all our clients. Cheers"
—
Matthew Duignan Mesh Design Projects